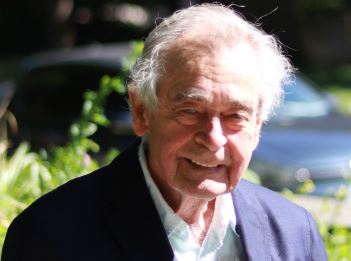 Our sincerest and most joyful congratulations to David.
Some people transcend easy categorization, defining themselves through their broad intelligence, unswerving drive, and confident individuality. David Croft is one of those people.
Over his thirty-one-plus years of service to Ontario architects, as Vice President of Claims at Pro-Demnity, David crafted a reputation as tireless defender of architectural practices and reliable source of knowledge and experience in architecture, construction, insurance and human nature.
During his six-and-a-half-decade professional career, he has embodied those very qualities the G. Randy Roberts Award was designed to celebrate. Now, in his 90th year and still energetic and enthusiastic, David has retired from active duty. David's extraordinary service to the Ontario architects, tutoring them, defending them, and protecting them from financial harm, has been necessarily behind-the-scenes, invisible and highly confidential, coming to light only through his much-heralded Claims Stories.
The Claims Stories are popular amongst architects and interns alike, offering up relatable situations and quandries that professionals can learn from. The Pro-Demnity Claims Stories are being updated with new delivery formats under consideration to reach the broader architectural community of practice.
Read more about David and his contributions to the profession in Issue 13 of The Straight Line